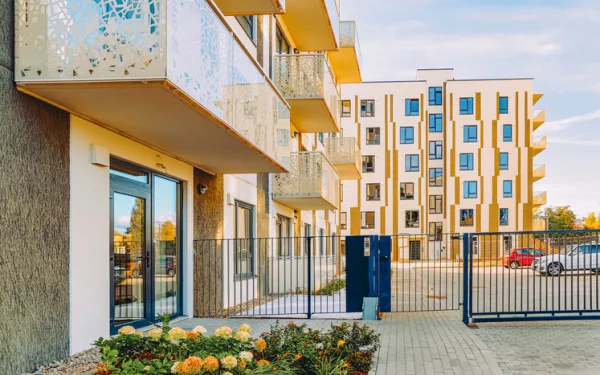 At EMX, we strive to provide businesses with tailored, top-of-the-line access control solutions to serve your needs in a cost-effective, reliable manner. Over the decades, we've developed a wide range of innovative products to address industry challenges and optimize access control operations. Explore our access control options below and reach out to connect with one of our experts about the best solution for your unique needs.
These vehicle motion sensors use microwave technology to activate automatic doors and industrial gates, better ensuring the safety of people and goods at your facility. The RAVEN offers dual-relay capabilities, while the OWL offers infrared presence sensor capabilities in addition to microwave motion detection. Each can be used with a remote for streamlined programming and enhanced functionality.
Dive Deeper: Explore both solutions and how to choose the ideal solution for your application.
Streamline installation and eliminate costly, time-consuming wiring with this complete wireless solution for interfacing sensing edges with gate and door operators. Compliant with monitoring standards and capable of operating up to 200 feet — with line of sight between the transmitter and receiver — this wireless edge link will empower your gate operation with superior functionality and reliability.
Dive Deeper: Learn more about its simplified setup and comprehensive capabilities.
This advanced retroreflective photoeye offers enhanced installation and easy alignment, offering a ball and socket design that enables you to mount and align your product with ease. Weatherproof, versatile in integration capabilities, and designed with vandalism deterrence in mind, the RET2 delivers better security and peace of mind for your automatic gate and door operations.
Dive Deeper: Learn more about the ways this model advances past its predecessors.
Our ready-to-install, complete kit is the perfect all-in-one solution for applications requiring dual zone detection and alert. From fast-food restaurants to banks, car washes, and more, this streamlined kit enables swift set-up and better detection of vehicles, capable of alerting staff with an audio and visual indication. We send our DAK-2ULTMVP with the enclosure pre-wired and components pre-installed so you can put it into action faster.
Dive Deeper: Explore more information about our time and cost-saving drive through kits.
This universal thru beam photoeye kit contains everything you need for easy installation and setup: the transmitter, receiver, protective hoods, and sunshield. With an operating range of over 115 feet, the weatherproof, high-quality IRB-MON is compatible with most non-monitored legacy products and can be used with an extensive variety of monitored operators to best serve your needs.
Dive Deeper: Learn more about how it can help you cut projects and time.
The Loop Replacement System (LRS) offers an advanced 3-axis, magneto-resistive sensitive technology that provides measurements in the X, Y, and Z axes to improve detection sensitivity. Our single saw cut vehicle detector can be installed above or below ground and offers a seamless, swift setup with a sensitivity display for highly accurate operations. Its compact, loop-less design cuts costs and includes an innovative feature that allows detection only when vehicles come to a complete stop, empowering you to ignore cross traffic in tight spaces.
Dive Deeper: Learn more about its comprehensive customization capabilities.
This advanced single-piece vehicle motion detector soars beyond the competition in three key ways: quicker installation, simplified sensitivity adjustments, and enhanced energy conservation. Housed in a slim, sleek design, the detector operates with 10 programmable sensitivity settings and accepts a range of power inputs, including those ideally suited for solar power applications. Enjoy a smoother installation and heightened performance with this premium single-piece VDM.
Dive Deeper: Explore the VDM202 here.
Contact Our Team for Better Access Control Options
At EMX, we're committed to delivering better access control options for businesses in need across a wide variety of industries. Our proven solutions address pain points and empower your access control operations with enhanced reliability, functionality, and quality. When you choose EMX, you can count on our products to serve your unique needs in a cost-effective, reliable manner.
We tailor our products to best serve your needs, working directly with your team to understand your challenges and how our access control options can address them. Ready to discover your ideal access control solution? Contact our team to explore your options today.