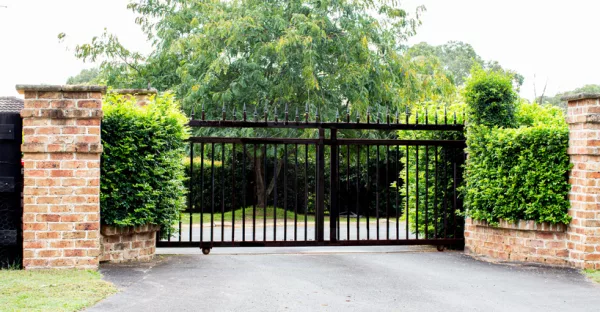 Retroreflective sensors are a vital asset to many access control applications and the RET2 photoeye is designed with the needs and challenges of users to deliver a superior experience every time. The latest innovation in access control, this retroreflective sensor provides advanced entrapment protection for automatic gates and doors with enhanced security and deterrence against vandalism. Its design innovates beyond its predecessors to provide a sleeker, more stealthy appearance with a simplified installation process so you can get it up and running with ease.
Read on to explore the unique features and benefits of the RET2 that make it stand out from other solutions and why our customers prefer it.
Ready to Discover Your Personalized Access Control Plan? Get in touch with our team to find the best access control solutions for your unique needs.
The RET2 — The Smarter Retroreflective Sensor
At EMX, we're driven to develop innovative access control solutions that truly address the needs and challenges of our customers. The RET2 showcases our commitment to innovation and excellence because it addresses many of the challenges users faced with older models of retroreflective sensors, including:
Difficult alignment
Housing limitations
Poor environmental immunity
Bulky aesthetics
Difficult installation
Our new RET2 photoeye pairs a sleek and compact design with an easy-alignment LED to streamline the installation process. The universal design allows users to integrate it with a wide variety of monitored operators and non-monitored legacy products, and its ball and socket bracket allows you to mount and move your equipment with ease for further versatility. It also features a NEMA 4X enclosure suited for indoor and outdoor applications, empowering users to use our equipment wherever they need it and trust it will serve your needs rain or shine.
In addition to these advanced features, this retroreflective sensor offers:
UL 325-2018 compliance
Operating range of up to 60 ft
Potentiometer sensitivity adjustment
Type B1, non-contact sensor
Integrated sensor hood
Selectable stealth mode
Dive Deeper: Explore the specifications in detail in our guide.
Why Customers Prefer the RET2
This retroreflective sensor's capabilities and design make it the preferred choice for many customers. Explore a few reasons our customers prefer it:
Turn the Stealth Mode On or Off
The RET2 offers an innovative stealth mode option that turns off LEDs when not in use. This helps reduce vandalism and can even offer minor energy-saving benefits. Choose to use the mode or turn it off as needed so you can tailor your equipment to your precise needs.
Install with Ease
This retroreflective sensor was designed with ease of installation in mind. The ½-inch screw-in conduit on the bottom of the equipment makes it easier to install than previous models, and we've removed the jumpers for the dip switches and included detachable terminable blocks as well. These features, with the help of the easy-alignment LED, make it easy to get your equipment up and running without delay.
Use with Your Existing Hardware
This solution is designed to integrate with existing monitored operators or non-monitored legacy products you may have, which our customers appreciate. The hardware also mounts with the same placement, removing an additional barrier and ensuring your retroreflective sensor serves as a seamless upgrade to anything you may be using already.
Enjoy the Enhanced Visual Appeal
A common complaint for other retroreflective sensor options is that their bulky design was an eyesore on residential gates and other common applications. Our RET2 features a sleeker, more compact design and a black polycarbonate enclosure and mounting bracket that blend in more easily. This makes it a more visually appealing option for industrial and residential applications alike.
Empower Your Entrapment Protection with the RET2 Retroreflective Sensor Today
When you want a retroreflective sensor that delivers increased performance, expanded capabilities, and better peace of mind, turn to the RET2. This easy-to-install advanced equipment was designed with your needs and challenges in mind, and its innovation has already been well-appreciated by other customers looking to level up their entrapment protection. Leverage our access control expertise and upgrade to our latest retroreflective sensor to experience the enhanced security and ease of use you deserve.
Ready to improve your security with an advanced retroreflective sensor solution? Talk to our team today.