Identifying the Right Equipment for Your Detection Requirements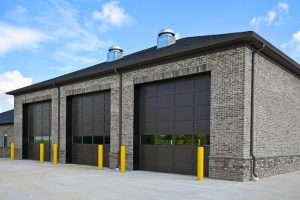 Multiple industries make use of overhead vehicle detection systems in their safety and access control product portfolio. From large industrial facilities with wide vehicle bays to dealerships, garages, and distribution centers, these systems play a vital role in supporting the daily operational flow of facilities while protecting employees, equipment, and customers.
But what exactly does an effective overhead vehicle detection system consist of? Every environment is unique, has different kinds of traffic, and requires different security or access features. Depending on how a facility is used and interacted with, specific photo eyes, vehicle detectors, and security components may be needed. Here we'll explore solutions across three categories:
Vehicle detection
Safety
Access control
Vehicle Detection: Overhead Microwave Sensors
Overhead microwave sensors are typically used in areas where in-ground loop installation isn't available or greater detection capabilities are needed. While there are a variety of vehicle detection systems available, overhead microwave sensors use K-band planar microwave technology to project a field over a space. This field is continually monitored for activity and initiates access systems — whether that's a roll-up/garage door, a gate, or another type of automatic barrier — when it detects a specific type of change. EMX offers three types of overhead microwave sensors based on your detection needs:
HAWK 2 — If your specific application doesn't require the detection of people or cross-traffic for gate automation, the HAWK 2 microwave motion sensor is the ideal, affordable solution. The HAWK 2 detects vehicles and people, making it perfect for standard installations on walls or ceilings up to 20 feet high. It features directional sensitivity, meaning it understands whether a vehicle is moving toward or away from the access point. (Note that while the HAWK can detect people and vehicles, it cannot differentiate between them.) Download the HAWK spec sheet here.
RAVEN — A step up in functionality from the HAWK, our RAVEN microwave motion sensor can differentiate between vehicles and people, allowing your system to account for and disregard cross-traffic and only trigger your door or gate for the desired traffic. It features two relays, which allows for pairing with other systems like lighting or keypad access controls for independent access apart from vehicles. It features multiple detection modes and other filtering and adjustment settings to maximize the accuracy and further reduce unnecessary openings. See the RAVEN in action here.
OWL — Our most advanced overhead microwave sensor, the OWL features many of the same capabilities as the HAWK and RAVEN but with the addition of infrared presence detection through a built-in IR sensor in the front of the device. This allows the system to identify static objects, such as vehicles or people in the detection field and to hold positions based on that presence. This adds a layer of security not found in other devices. The OWL can be quickly and easily configured at any time through a separate remote control. Download the OWL spec sheet here.
Unsure what system is best for your environment? Check out this handy side-by-side comparison of the above systems.
Safety: Protecting People and Vehicles
In addition to vehicle detection and sensing the presence of people within a field, it's important — and in many cases, a requirement — to have additional safety equipment that can trigger actions based on certain inputs. For example, many industries require the inclusion of a sensing edge near the bottom of a door or gate for protection. EMX offers a variety of equipment that supports these safety requirements:
PC-3 — The PC-3 is an infrared modulated thru-beam photoeye. It emits an infrared beam from a transmitter to a receiver. When the beam is interrupted, a signal is sent to the operator control to stop or reverse the gate to prevent damage. The PC-3 is easy to install thanks to its LED alignment indicator. It can be used with many control board types, can be installed indoors or outdoors, and provides an "open" signal in the event of a power failure. Get the PC-3 spec sheet here.
IRB-4X — Designed for larger spaces and for more robust environments, the IRB-4X is an infrared photoeye kit that includes a protective hood and sunshield in addition to the transmitter and receiver. It's easy to align because it has no lenses, reducing its sensitivity to dust, fog, snow, and sunlight. It's immune to vibration, automatically compensates for temperature changes, and comes in a weatherproof NEMA 4X enclosure. See how the IRB-4X is used in different environments here.
WEL-200 — The WEL-200 wireless edge link interfaces sensing edges with gate and door operators, eliminating the need for wiring while supporting UL325 monitoring requirements. It allows for the connection of up to four safety edge transmitters and operates up to 200 feet between the transmitter and receiver. It is easy to install and requires only two lithium AA batteries for up to two years of seamless operation.
Go deeper: Learn more about the differences between thru-beam and retroreflective photo eyes to learn which is right for your environment and sensing needs.
Access Control
LR-650 — The LR-650 is a long-range wireless remote that allows anyone holding a key fob (which is a transmitter) to operate a number of automation products ranging from gates and garages to doors and lighting systems. Up to 15 transmitters/fobs can be connected to one LR-650 with up to 68 billion code possibilities, ensuring maximum security. Fobs will activate a system in an open air environment up to 450 feet away. If further operating ranges are needed, an optional extended range antenna is available (LR-DIPOLE). Download the LR-650 spec sheet here.
Multiple Solutions — Depending on your environment and access control needs, EMX also offers other solutions like the vandal-resistant and weatherproof KPX-100 programmable keypad, CR-2000 rugged card reader/keypad with access monitoring, and the PTM 7-day programmable timer with flexible power supply options and multiple daily events and time configurations.
Build a complete solution: Explore our full line of safety and access control solutions here.
Protect People and Equipment with the Right Access Controls
Whether you're looking for a more reliable overhead vehicle detection system or accessories to customize access to your facilities, EMX Industries, Inc. offers a full portfolio of solutions designed with the installer in mind. Connect with us today to learn more about our equipment and how it will support your access control needs.