Facility Access is the Key to Smooth Operations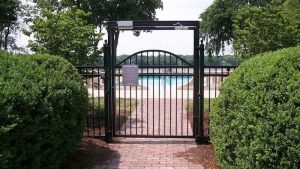 The last thing business leaders, employees, and customers need to be worried about is unauthorized access into a building or other space. Additionally, providing easy and efficient access to a space ensures businesses maintain productivity, employees and the general public are kept safe, and facilities themselves remain secure to avoid liability issues or other unwanted challenges. Programmable keypads are essential to these goals.
While keypads themselves are nothing new, designers and manufacturers like EMX Industries, Inc. are continually seeking new ways to make them more advanced, intelligent, customizable, and durable based on the needs of a business and its employees. In many facilities, a simple access code for each user is all that's needed. In others, additional features like card reading capability and user access monitoring are required. But in every application, resistance to weather and tampering are essential.
EMX Access Controls offers a variety of programmable — and extremely resilient — keypad products to support these diverse needs. Here, we'll explore three solutions: the KPX-100 programmable keypad, the CR-2000 weatherproof card reader/keypad, and the PRX-320 weatherproof proximity card reader/keypad.
KPX-100 Programmable Keypad
The KPX-100 is a dual-relay programmable keypad designed for heavy use in high-traffic areas and in harsh environmental conditions.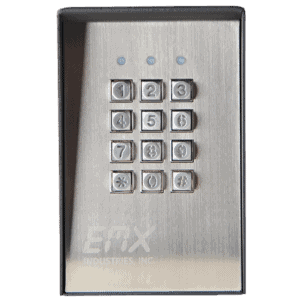 It can be quickly and easily configured using the keypad itself for single-user and multi-user mode, allowing for integration into any space. The KPX also has a high capacity of 110 programmed codes at any one time, ensuring that employees, vendors, residents, or anyone else who needs access will be able to use the system. Up to 100 million possible codes can be used in the KPX-100 to make up those 110 programmed codes.
See it in action: Watch the KPX-100 being quickly programmed for different user modes.
It features rugged metal housing that's anodized and powder coated for resistance to weather (rated for IP66 all-weather in temperatures from -22°F up to 159°F). Its sturdy construction also makes it extremely resistant to vandalism. Its all-metal and back-lit buttons enable usability in low-light conditions and can withstand heavy, repeated use for years. To keep installation simple, it has universal mounting options for gooseneck mounts, walls, or posts and features 12-24 VAC/DC operation.
More info: Download the KPX-100 spec sheet.
Get started: See if the KPX-100 is right for your access control needs.
CR-2000 Waterproof Wiegand Card Reader + Keypad
Facilities with more users or where greater oversight of access control is needed will benefit from the CR-2000 card reader and keypad. Built just as tough as the KPX-100, the CR-2000 adds waterproof capabilities to its all-metal housing with the addition of a tamper alarm and short circuit protection. It can support up to 2,000 users with any combination of user passcodes or passcards (the CARX-20 reinforced access card). And thanks to its built-in Wiegand output technology, companies can use the CR-2000 for user access monitoring to track facility or space entrance data with a third-party system.
More info: Download the CR-2000 spec sheet.
Get started: Talk to our team about your access control requirements.
PRX-320 Weatherproof Proximity Card Reader
Designed for outdoor use, the PRX-320 is ideal for automatic gates and doors thanks to its proximity reading capability. The system will read programmed CARX-20 reinforced access cards up to five inches away or accept programmed user passcodes. And to ensure it's as useful as possible for your unique application, the unit features four versatile methods of opening: 1) entering a four-digit passcode only, 2) proximity card access only, 3) proximity card plus four-digit passcode, and 4) using a proximity card or a four-digit passcode. And just as with the KPX-100 and CR-2000, it's built to be weatherproof and tamper-proof — ensuring it performs reliably for your facility access needs for years to come.
More info: Download the PRX-320 spec sheet.
Get started: Connect with us to put this advanced system to work for your facility.
Let's Find the Right Programmable Keypad for Your Facility
EMX Industries, Inc. has been designing, engineering, manufacturing, and servicing a full range of access control systems for multiple industries for decades. One of the greatest advantages of our systems is their cost-effectiveness — with EMX, you get the same security and detection features you need but that would cost several or even many times more in competing solutions. Each one is designed with installation and integration in mind — reducing the time needed to start benefiting from them and ensuring any future service needs are as easy as possible.
Contact us today to learn more about our programmable keypads.