Understanding Safety Edges and Their Installation Challenges
Safety edges are rubber strips that play an important role in protecting people, vehicles, equipment, and facilities from accidents caused by unmonitored doors or gates closing (or opening) on them.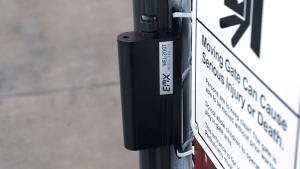 Safety edges are wired rubber strips cut to the length of a gate or door and placed on the edges, such as on the bottom of an overhead garage door — and on the opening end as well depending on the application. The strips contain wiring that, when pressed, sends a signal to a transmitter, which in turn sends it to a receiver contained in or around an operator box. This signal tells the operator box to reverse its current action.
However, traditional safety edge installation requires wiring to integrate these protective measures into a facility or environment. This creates potential hazards, increases the opportunity for system failure, and leads to more service calls. Together, this results in increased costs and impacts the ability of employees, customers, or residents to access and move about an area safely.
Traditionally, safety edges are wired directly to a transmitter, which means that wiring is run along the length of a gate or behind a door. This is time-consuming to install, as the wiring itself must be measured, manually run between the safety edge and transmitter, bundled and secured, and tested repeatedly to ensure everything is working properly. If any changes are needed, this entire process repeats. Over time, this increases the number of service calls needed to replace, repair, or update the wiring.
Short on time? Don't be short on safety. Get five quick facts about the WEL-200 here.
How the WEL-200 Simplifies Safety Edge Installation
EMX Industries, Inc. developed the WEL-200 — a UL325-2018-compliant solution for wireless safety edge installation. With the WEL-200, which stands for Wireless Edge Link, safety edges can more seamlessly interface with door operators while simplifying upfront installation and long-term service needs. Let's review some of the key features of this system and how it benefits your access control needs.
Spec it out: Download the WEL-200 spec sheet for complete details.
A Straightforward Kit — Our WEL-200 wireless safety edge solution comes with one transmitter (WEL-200T) and one receiver (WEL-200R). Once implemented, the receiver automatically chooses the cleanest frequency out of the 25 available to use. There's no need to use lengthy, frustrating wiring or to manage multiple other products for adjustment.
Efficient Setup — Thanks to the WEL-200's improved channel sniffing, the receiver automatically chooses the cleanest radio frequency to use out of 25 available. This rapidly streamlines the installation process in that installers don't have to manually configure this setting.
Multiple Transmitters — With the WEL-200, up to four transmitters (which corresponds to four separate safety edges) link to one receiver. For applications that require multiple safety edges, this eliminates the need to wire multiple safety edges and transmitters to multiple receivers, helping you save not only installation time but also on equipment costs.
Three Monitoring Methods — In compliance with UL325, the WEL-200R (receiver) features three monitoring methods: NC relay contact, resistive 10K monitoring, and four-wire pulse monitoring. The WEL-200 is compatible with both 8.2K and 10K monitored safety edges.
A Lengthy Line of Sight — Making installation even easier, the WEL-200 can function with up to 200 feet between transmitters and receivers. This is helpful for larger facilities where additional space is needed between the units. (Note that both units must have an unobstructed line of sight. For the best results, the operator housing box should be plastic to allow the radio signal to pass through.)
Long Battery Life — The WEL-200 operates using two AA Lithium-Ion batteries. Using this exact battery type (not AA alkaline), the WEL-200 should function with a minimum battery life of two years, making battery replenishment infrequent and ensuring the system is always running in your space.
More: Watch a WEL-200 overview to learn how it benefits wireless safety edge installations.
Let's Connect on Your Wireless Safety Edge Needs
EMX Industries, Inc. has been developing, manufacturing, and supporting a variety of access control equipment and safety systems for more than 30 years. We proudly manufacture all of our products in Cleveland, Ohio. And to ensure that you receive nothing but the best, we maintain strict adherence to ISO 9001 quality control standards along with UL325 requirements. Whether you're looking for a new partner for your access control needs or are just beginning your search, our team is here to help.
Connect with us to discuss your application or to request more info on the WEL-200.