There's More to Access Control Than Open/Close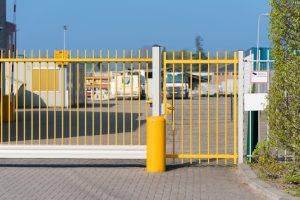 Every facility or environment has its unique access control needs. One facility might have vehicles in and out all day, requiring an intelligent solution that can detect them whenever they arrive and based on how they're interacting with the access point. Another might restrict access to certain times of the day — intentionally keeping gates and doors closed regardless of whether vehicles approach them.
For the latter, an access control timer is an ideal solution for ensuring that these access points remain closed or open depending on the date and time. Consider a large-scale construction site or perhaps a hazardous outdoor job site like a mining operation. It's important to prevent unauthorized entry into these areas to prevent accidents. Another example is a public park that opens and closes at specific times. After a specific time, a gate needs to close to prevent vehicles from entering the parking lot.
While there are a variety of industrial access control timers to choose from, it's important to look beyond basic capabilities. Having an access control timer that not only supports everyday access needs but also has features to take its protection to the next level while also preventing wear and tear on your existing equipment is essential. Let's explore a few must-haves when it comes to access control timer solutions.
What to Look for in an Access Control Timer
Customization
First, the access control timer you select should be configurable based on the needs of your employees, customers, and overall space. Do you need gates or doors to open regularly a couple of times? Or do you need more events throughout a given day? And what about the days of the week? If your operation is only Monday through Thursday or every other weekday, you'll need an appropriate timer that allows for different configurations.
Backup Power
Because access control timers are integrated directly into your environment, there is the risk that should the power go out, gates and doors will no longer function — trapping people and vehicles inside or outside of a facility or space. This is also a potential security issue: if a timer loses power, it might revert to a different state — potentially leaving a door open. Consider timers that factor this into their design and provide backup power solutions to remain functional in the event of an outage.
Ease of Installation
Again, every environment is different. Yours might have different power supply options or need more power based on the other equipment in the system. Also, consider date and time functionality. Some operations and facilities run on 24-hour time instead of 12-hour time. Finally, how will the timer be physically integrated into the facility? Often, timers and other equipment are integrated haphazardly — adding complexity to a job site and even putting equipment at risk. Look for access control timers that provide options to meet the needs of your space.
EMX and PTM — Opening the Door to Smoother Operations
EMX Industries, Inc. developed the PTM seven-day programmable access control timer to help organizations and system installers configure facility and site access points in a way that works best for them.
Date & Time — The PTM provides up to 16 on/off events, seven days per week. Up to 15 different daily options are available, allowing you to customize and build an access control schedule that reflects the way you and your facilities/spaces operate. The PTM is also adjustable between 12- and 24-hour time to avoid any confusion from having to use a different format.
Battery Backup — The PTM features a backup coin-cell battery power source that saves your settings in the event of a power loss. And, if power is lost, the PTM's clock will continue counting, ensuring that once power returns, gates and doors aren't left open or closed if they weren't supposed to be. This battery also allows the PTM to be configured before power is connected.
Power Options — The PTM access control timer is available with 12VDC/VAC, 24VDC/VAC, or 120VAC power supply options to meet your facilities' needs and to make installation faster and simpler upfront.
DIN Rail Mount — The PTM can be installed into panels and boxes or on walls via a DIN rail mount. This keeps your installation neat and clean and prevents any issues due to using Velcro or allowing the unit to hang from its wiring (thereby protecting your investment and maintaining its functionality).
Simple Usage — With a large display and push buttons for each operation, as well as a program that's fast and easy to set up, the PTM only requires some basic cabling to integrate it with your operator.
Download the PTM spec sheet here for a complete overview.
Put the PTM to Work in Your Facility or Space
Whether you need a simple yet effective solution for controlling access to your space or are looking for a timer to integrate into an existing system, the PTM features the customization and reliability you — and all those entering your space — need to feel secure.
Connect with our team today to learn more about the PTM's capabilities and to discuss your unique access control needs.