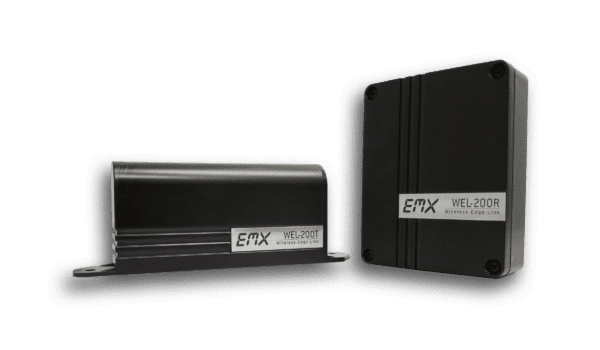 The WEL-200, or Wireless Edge Link, is the leading safety edge sensor solution that advances your access control safety and operations. Safety edges, which are wired strips often placed on garage doors or along gates, send signals to transmitters and their operators when pressed, which triggers a programmed action such as a garage door or barrier opening. The WEL-200 interfaces sensing edges with gates and doors to provide a simple, reliable operation method that is more secure and capable than its competitors.
Other traditional wired edge link options rely on unsightly, unsafe, and unreliable wiring to connect the safety edge to the operator, which is run along the length of a gate or behind a door. Wired edge link options add vulnerability to your access control operations due to their openness, and they're costly both in time and funds to install and maintain.
Wireless options such as the WEL-200 are not only less hazardous, but they're also a simplified approach to safety edge link operations that open up broad possibilities for frequency selection, easy pairing, and easy installation. Read on to explore even more reasons why the WEL-200 is the solution for you.
The WEL-200 is Your Simple, Comprehensive Safety Edge Sensor Solution
We've already shared how to optimize the WEL-200 — now let's dive deeper into what elevates this equipment far beyond its dated competitors.
25-Channel Automatic Frequency Selection
When you first install and pair your receiver and transmitter, the receiver will identify the local radio frequency (RF) of the environment to find interfering sources. If it finds an interfering source, it will automatically avoid that channel for future use, ensuring a clean connection you can rely on. This means that if someone nearby has a piece of equipment causing interference, it won't hinder the performance or connection of your WEL-200 and connected systems. This process automatically occurs during the first power-up but can be easily triggered manually at any time should you ever require it.
Simple Pairing
Our WEL-200 comes with one transmitter and one receiver. Their expert plug-and-play design streamlines the pairing process and allows you to begin operating the equipment swiftly after set-up. If you need multiple transmitters, the WEL-200 allows up to four transmitters to link to one receiver. This advanced option enables you to avoid lengthy, hazardous wires stretching across the property in favor of a wireless solution with a low installation cost and time. As long as your safety edges are set up properly, our innovative equipment is simple to pair and start operating.
Easy Installation
Traditional wired safety edge sensors require an extensive installation process: wiring must be measured, manually installed between the safety edge and operator, then tested. When location changes are needed or the wire begins to degrade and requires repairs or replacement, the process begins again. The lengthy installation process will cost you time and money compared to wireless edge link options and their streamlined installation process.
The WEL-200 is built to operate with up to 200 feet between the transmitter and receiver and was designed for efficient, stress-free installation. As long as you follow these suggested guidelines, your WEL-200 will start serving your needs swiftly after installation:
The receiver must be mounted outside of the operator housing. A common mistake is to wire it inside the housing, but this will disrupt performance.
The antenna is on the unit itself, so it can be enclosed. Ensure the antenna is extended at least 1-1.5 inches above any metal to avoid connection quality issues. Connection quality is critical because a poor connection will drain your equipment's battery life.
Always allow for a clean line of sight between the receiver and transmitter(s). This will ensure they can perform without problems.
Put the WEL-200 Safety Edge Sensor to Work in Your Facilities
The WEL-200 is more capable, cost-effective, and simple to swiftly install and maintain than its dated wired competitors. Compatible with both 8.2K and 10K monitored safety edges, this is your wireless safety edge sensor solution that can be customized to your unique needs. For high-quality equipment that will serve your needs immediately after installation and avoid frequent, costly maintenance, choose the WEL-200.
If you're ready to explore our superior safety edge sensor, contact our team to learn more about how the WEL-200 will serve you.