A Quick Primer — What is the WEL-200?
The Wireless Edge Link (WEL-200) is a wireless safety edge sensor that simplifies how sensing edges interface with gate and door operators. It eliminates the wiring between the safety edge and operator control box while ensuring compliance with UL325 monitoring standards. In addition to eliminating wiring, the WEL-200 provides significant flexibility for installers:
Compliant with multiple monitored outputs (NC, 10K, Pulse)
Can connect to up to four safety edge transmitters
Operates ? 200 feet line of sight between transmitter and receiver
Watch a quick overview of the WEL-200 here.
While the WEL-200 provides a number of advantages for busy installers looking to simplify their workload, it's important to ensure proper installation to maximize the performance of the two units (WEL-200T transmitter and WEL-200R receiver).
Why Accurate Safety Edge Sensor Installation is Important
Battery Life — A poor or unoptimized installation will result in a weaker radio frequency (RF) performance. As a result, the battery life could drop from a high point of two years to one year or less. Installers or the client will have to swap out the AA lithium batteries more frequently and operations could suffer. The client might not realize that the unit has lost power and could experience frustration and confusion.
Reliability — Proper installation overall preserves the reliability of the WEL-200 system and its performance. If not properly installed, the unit could become disconnected (more on this shortly). Additionally, and worst of all, poor installation could result in false triggers — preventing the gate from operating at all and causing flow and service issues.
Check out five must-know facts about the WEL-200.
Tip #1: Maintain Line of Sight
It's crucial that the transmitter and receiver units have clear, unobstructed line of site between them after installation. When installing the systems, imagine drawing a line between the two units: is anything in the way? If the gates fully open and fully close, does anything obstruct the system?
Additionally, and as mentioned above, ensure that you're within the 200-foot line of sight max operating distance between the transmitter and receiver. This applies to each transmitter (again, up to 4 can be connected) that will be relaying signals to the receiver.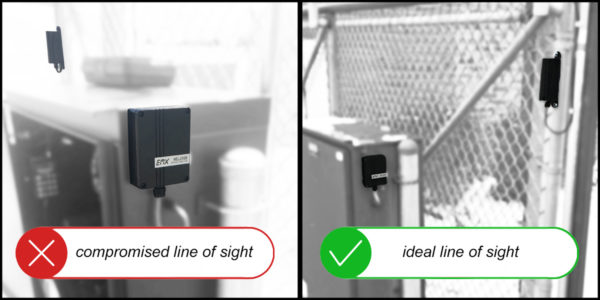 Explore the full specs of the WEL-200 receiver and transmitter.
Tip #2: Installation Height
If the project requires installation on a gate, it's beneficial to install the WEL-200 higher rather than lower. This ensures it's further from the ground, which can help improve signal quality. When it's lower, there is a chance the operator housing could cause an obstruction — resulting in the antenna getting de-tuned and causing disruptions.
An additional consideration to promote installation reliability is to position the unit with the cable grip pointing down. This helps to prevent water from getting into the housing should the WEL-200 be implemented in an outside environment where it will be exposed to rain and snow.
Get answers to all of your WEL-200 questions in this FAQs overview.
Get Technical Support Ahead of Your Next Wireless Safety Edge Sensor Installation
From the WEL-200 wireless safety edge sensor solution to innovative photo eyes and security systems, EMX Access Control has designed our full portfolio of products with installers in mind.
When you're better prepared and equipped, you can minimize the number of service calls — as well as callbacks — on your agenda thanks to having more flexible, adaptable equipment that works with a variety of current and legacy systems. You can reduce the physical aspects of your work and provide clients with more flexibility when it comes to how their access control needs are managed. Learn more about the benefits of keeping our products stocked to maximize your revenue.
Whether you have the WEL-200 or other EMX Industries products on hand, or you're looking for new solutions to simplify your work, our technical support team is readily available to provide installation best practices and guidance. Simply reach out whenever you need assistance. You can also explore our full library of support documentation, technical specs, and more.
Contact us to learn more about the WEL-200 safety edge sensor solution and our other equipment options.