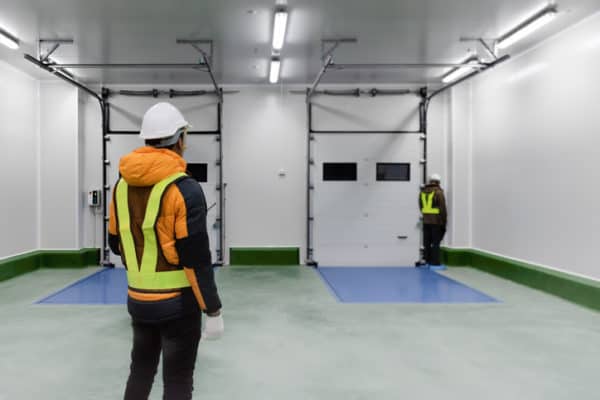 As an access control installer, you've likely gone to a job site or a service call and found yourself unable to complete the work because the scenario called for equipment you didn't have on hand. Not only did this cause a delay for your business but it also caused delays for your customer while you went in search of other access control solutions to use.
At EMX Industries, we understand that having the right equipment is critical for your success and for your customer. We also understand that each scenario is different, with details that might seem insignificant to others but can actually completely change how and where access control solutions are installed. That's why we design our access control sensors, photo eyes, and other equipment to be as flexible, simple, and adaptable as possible.
Here, we'll explore four access control solutions that you as an installer should consider stocking on your service trucks to make each job faster, easier, and more productive (and beneficial for the customer in the long run).
1. IRB-RET and IRB-MON Photoeyes
The retroreflective IRB-RET photoeye and thru-beam IRB-MON photoeye are ideal for a variety of applications that include barriers, gates, and doors — anywhere where entrapment protection is needed or required. It's also important to know which style is best for your job sites, so if needed, you can get a quick refresher on the pros and cons of retroreflective and thru-beam photoeyes here. If you're good to go, there are a few reasons why IRB-RET and IRB-MON are ideal access control solutions to keep handy:
They work with a variety of monitored operators
They work with most non-monitored legacy products
They feature rugged NEMA 4X enclosures for indoor/outdoor use
Combines multiple features in one unit that other have to provide in many products
Compliant with UL325 requirements
2. WEL-200 Wireless Edge Link
Many facilities and spaces require safety edges, but installing them requires wiring — which means longer installs and service calls. It also means changes and greater wear and tear over time. These challenges add up per safety edge as well. The WEL-200 Wireless Edge Link streamlines installation by providing everything you need in one kit. The WEL-200 receiver pairs with up to four edge transmitters, eliminating the need of wiring multiple receivers to the operator (not only saving you on installation time but also on equipment costs). Here are a few other reasons to keep the WEL-200 in your inventory:
Works with multiple monitoring methods to achieve UL325-2018 compliance
Has an extensive 200-foot connection range (line of sight) for installs needing space
Works as the transmitter slides further away from the operator, adding greater flexibility
3. MVP D-TEK Multi-Voltage Loop Detector
You've probably been here before: you get to the job site, and your access control solutions aren't compatible with the power supply. You're out of luck — and so is the customer, until you find a compatible alternative. This exact scenario is why EMX innovated the MVP D-TEK multi-voltage loop detector. Featuring universal voltage (12 to 220 VAC/DC), the MVP D-TEK can be installed in virtually any environment based on the available power supply. With power being on the most common issues installers face, here are other great reasons to stock the MVP D-TEK:
It operates in both fail safe and fail secure mode for power loss situations
Comes in a sturdy aluminum RF shield housing
Features 10 sensitivity settings for complete customization for distinct detection needs
4. VMD202 Vehicle Motion Detector
In free-exit applications, installers often have to cut a new loop to place probes or, for service calls, dig up probes that have been buried alongside a roadway or other space. This is a lot of time and effort on your part and creates a hassle for the customer. EMX offers the VMD202 motion detector system to solve this challenge. The VMD202 comes with a sensitivity remote that allows adjustments while the probe is still buried. For applications where only free exit is needed and not additional security, the VMD202 provides the flexibility needed along with:
Low 70uA standby power current, making it ideal for solar applications
A water-tight assembly for the probe and cable
Non-volatile memory in the event of power failure
Ability to work with a wide power input range
Make Your Life — and Work — Easier with Our Access Control Solutions
At EMX, we've been designing and supporting a complete portfolio of access control, safety, and vehicle detection solutions for decades. Whether you're looking for more efficient and flexible equipment, or more advanced access control solutions for complex spaces and traffic scenarios, our team is here to help.
Get in touch with us to learn more about our offerings and how we can simplify your work.