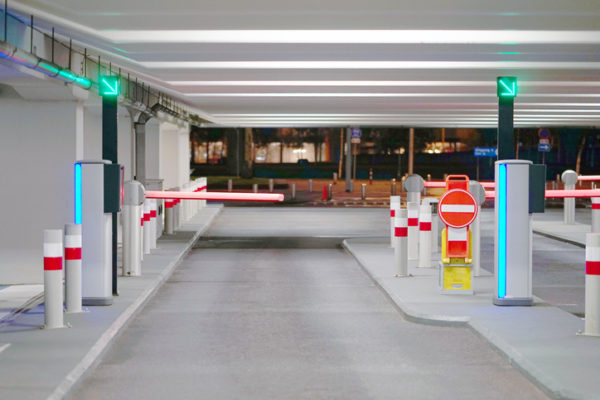 Ready for a Simpler Vehicle Detection System?
If you install vehicle detection systems or operate a facility that uses vehicle detectors, you're familiar with how difficult service calls can be.
The loops used to detect vehicles passing in front of gates or doors are typically installed under concrete or asphalt — making repairs or replacement time-consuming, dirty, and hazardous. That's why EMX Industries developed the LRS Loop Replacement System, designed with installers and facility managers in mind.
Previously known as the CarSense 303 (CS303), the LRS loop replacement system simplifies many of the installation processes of traditional inductive loop technology while expanding the capabilities and features of its predecessor. As a magnetoresistive sensor, the LRS detects changes in the Earth's magnetic field — allowing it to seamlessly verify the presence of metallic objects such as vehicles. This makes it the perfect vehicle detection system for any facility.
Here, we'll explore several of the upgrades and advantages of the LRS loop replacement system for installers and facility managers looking to keep facilities functional while saving time and money on service needs.
You Came, You Saw, You'll Conquer: Learn about the LRS in this brief overview video.
Advantages of the LRS Loop Replacement System
Single-Saw-Cut Installation — Whereas other inductive loop systems require up to nine saw cuts to replace the loop, the LRS requires a single diagonal cut across the installation surface where the lead wire will need to be installed. This means less wear and tear on your tools, less time on site, and a simplified replacement process.

Upgraded Construction — While the CS303 featured a robust construction like all of our other vehicle detection equipment, the LRS loop replacement system has been extensively upgraded with a new housing, new cabling, and new firmware — combining rugged durability with the latest technology.

Location Flexibility — Anywhere a loop can be installed, the LRS loop replacement system can be, too. So whether you need to install the LRS above or below ground, you — or your client — will be able to benefit from its reliable performance and time-saving implementation.

Neat & Tidy — Every facility and space is different. Because the LRS only requires a single cut for installation, the damage and repair work needed are minimal. This makes the LRS loop replacement system ideal for spaces such as gated residential neighborhoods or facilities that don't want a lot of fuss or leftover markings on concrete pads and driveways. Additionally, some spaces don't want to dig up old loops because it can impact sales (e.g. restaurant drive-thrus). The LRS is a great alternative for these projects.

Multi-Dimensional Detection — The LRS loop replacement system allows for three-dimensional presence detection of vehicles with the ability to select X, Y, and Z axes independently, based on whether the system is used above or below ground. Whatever the detection need, the LRS offers the spatial detection flexibility needed to keep vehicular traffic moving properly while promoting safety.

Logic Interface — Depending on your installation application, you might have a need for more than one sensor to be operated by a single controller as opposed to two. The LRS' logic interface (the LRS-L) allows you to extend the detection range with six selectable logic settings that include directional logic (A/B), pulse on entry, and pulse on exit. Learn more about it here.

DETECT-ON-STOP™ (DOS) — A feature of many of our vehicle detectors, DOS prevents detection of vehicles that are still in motion, instead only detecting them when they're in a loop and have been stopped for a full two seconds. This helps prevent detection of cross-traffic or vehicles that are passing by or through an area. Learn more about the advantages of DOS here.

ULTRAMETER™ — Configuring and testing loops during installation or replacement can be a tricky process, requiring a number of steps to ensure the correct sensitivity settings. But with the built-in ULTRAMETER display in the LRS loop replacement system, installers can more quickly and accurately configure loop sensitivity settings. Additionally, these settings can be configured according to the types of vehicles entering a facility. Learn more about ULTRAMETER here.
Work with the Experts in Loop Installation and Replacement
Whether you're looking to install a proactive system during the construction phase or need to replace an existing loop at a site, the LRS Loop Replacement System is the flexible, efficient, cost-effective, and time-saving solution you've been looking for. Skip the hassle of complex, dirty, and potentially hazardous installations and replacements — work with us to help you simplify your vehicle detection needs.
EMX Industries has been designing and supporting a full portfolio of vehicle detection, access control, and other safety equipment for years. Trust our team to help you maximize your installation abilities or to ensure your facility is properly set up to handle the right kind of traffic at the right time.
Connect with us today to discuss your access needs and to learn more about the LRS.