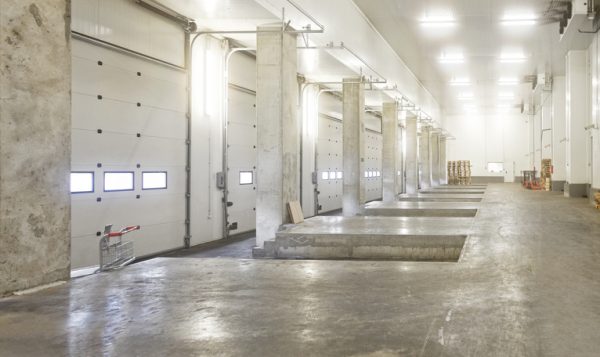 Understanding Microwave Vehicle Detection Systems
Whether in an industrial or commercial facility, understanding and optimizing large overhead doors and other systems for the right type of traffic is critical for a number of reasons. These include stronger customer and employee safety, improved equipment performance and longevity, better energy utilization, and reduced costs and delays associated with installation and service challenges. A key solution for meeting this need is a microwave vehicle detection system.
A microwave vehicle detection system uses a high-frequency radio signal transmitted via a direct line (as opposed to the more familiar broadcast radio signal). It's this functionality that makes it an ideal solution for large overhead doors where traffic is approaching or passing right in front of the door — exactly where the detection need is greatest. These systems are also essential where in-ground loops are not possible or where additional detection needs may be present, such as on the exterior side of a door where people may be passing.
The Access Controls team at EMX Industries, Inc. has developed a full series of microwave vehicle detection systems to help facilities, as well as installers, find the right solution for their needs. Our RAVEN microwave motion sensor excels in facilities that need to be able to detect moving vehicles, filter out cross-traffic, and detect the presence of people — all in a single system. Here, we'll explore several reasons to consider the RAVEN for detection needs.
Video: Get a quick overview of how the RAVEN detector works.
Multiple Reasons to Use the RAVEN Detector
It's Great for High Traffic Areas — Depending on the facility and how vehicles interact with overhead doors, only moving vehicles may need to be detected. The RAVEN allows for the detection of moving vehicles. One example is a dealership service garage, where vehicles often need to creep toward a gate in order to activate it versus stopping. This ensures that only the right kind of traffic is able to activate the door operator, saving the company on energy and preventing excess wear and tear over time.

It Has an Adjustable Detection Field — Depending on the door dimensions, a wider or narrower detection field may be needed. Wide doors where vehicles could potentially pull up in different lateral positions relative to the door must be considered. The RAVEN allows vertical directionality of +/-90º in 15º increments up or down as well as horizontal directionality of +/-18º increments, allowing for a tailored detection area.

Traffic Direction Flexibility — To ensure the RAVEN supports how a facility works, vehicles can be detected in three modes: approach-only, depart-only, or bidirectional movement. Take a loading dock door for example. One RAVEN positioned on the exterior side will trigger the door as a vehicle approaches. The vehicle passes through and unloads inside. A RAVEN installed on the interior can then trigger the door as the vehicle reverses. Both RAVENs can be set to bidirectional as well, such as for large industrial doors where vehicles may be approaching the door from inside or outside of the facility.

Cross-Traffic Suppression — If a facility allows for cross-traffic (vehicles passing side to side in front of overhead doors versus approaching them directly), the RAVEN can be programmed to ignore this traffic. This prevents unnecessary door openings, saves wear and tear on door operators, and helps control energy consumption.

Dual Relays Prevent Pedestrian Activation — Just as the RAVEN can filter out cross-traffic to prevent excess operations, it can also detect the presence of pedestrians thanks to dual relays. One relay can be configured to detect only vehicles, and the other can detect people. This second relay can be used to trigger a next step, such as activating a light source, turning on a keypad for access control, or activating a camera system. This is all adjustable based on the size of the object approaching the door.

Ease of Installation — The RAVEN is incredibly easy and simple to install thanks to the fact that it doesn't necessitate cutting into pads or concrete for loop installation. It can be installed anywhere from eight to 23 feet above the ground, providing extreme flexibility based on overhead door size. And, to make life for installers even easier, an optional remote — the RAVEN-RC — can be used for quick-and-easy programming.
Go deeper: Learn more about the RAVEN and its capabilities here.
Is the RAVEN Right for Your Environment?
Whether you're operating multiple large overhead doors or are looking for a more efficient solution for installation projects, the RAVEN microwave vehicle detection system expedites implementation and increases customization based on your facility and access needs.
If your facility only needs moving vehicle detection, without the need for detecting pedestrian traffic, our HAWK II microwave detector provides the detection flexibility needed. Additionally, if your access needs are more complex (such as needing to detect the presence of people and objects beyond just their motion), our OWL microwave detector combines microwave and infrared technology into a complete, advanced solution.
Whatever your facility and access control needs may be, our team is ready to help you find the right microwave vehicle detection system to support your operations and make your life easier. Get in touch with our team today to learn more about these options and to find the right one for your environment.
Contact us to learn more about RAVEN and other detection systems.