How Vehicles Engage with Your Environment Matters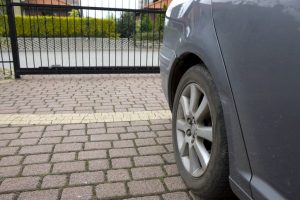 A vehicle loop detector is an essential part of operations for numerous industries where vehicles of multiple sizes are entering and exiting facilities. While loops vary in size and specification, choosing the right corresponding sensor requires an understanding of how vehicles are engaging with a facility, entryway, or other space. This is important because the detector needs to understand the vehicle behavior in order to trigger a resulting action, such as alerting an employee or triggering a garage door to open.
For example, in fast food or other industries where employees need to be alerted to the presence of a vehicle in a drive-thru or at a window, a vehicle passing through the lane doesn't need to trigger that alert. However, a vehicle that intentionally stops at a menu board or the window does.
In a vehicle service center, such as a dealership or private auto repair shop, automatic overhead garage doors leading into the check-in or repair area must trigger when a vehicle approaches. For safety purposes, it's ideal that the vehicle is stopped before triggering the door. The same goes for when a vehicle inside the garage is ready to depart.
Another example is gated residential communities. Often, grounds crews and landscapers are moving around the community on carts and other work vehicles. At times, they may pass the gated entryway not intending to stop — a form of interference called cross-traffic. For security purposes, that gate needs to stay shut until it's clear that the vehicle is at a complete stop — signifying that it needs to enter.
For these applications and countless others, the ideal vehicle loop detector should have the ability to detect when a vehicle is stopped, not passing by. At EMX Industries, we developed DETECT-ON-STOP (DOS) technology — a feature available on several of our access control sensors — to solve this multi-industry challenge.
How DETECT-ON-STOP Works
Whereas a traditional vehicle loop detector would detect a vehicle passing through the loop, a DOS-equipped vehicle loop detector only detects vehicles once they have entered the loop and come to a complete stop for a full two seconds. If a vehicle were to pass over the loop, the DOS detector wouldn't see this action, thereby preventing false detection.
The advantages of this are numerous. First and foremost, safety is improved. Regardless of industry, the last thing you need is to have gates, barriers, or garage doors opening when a vehicle hasn't come to a complete stop. With DOS technology, not only will these systems remain closed until a vehicle is stopped, but over time, employees and customers will understand what is required in order to access an area — building that knowledge into them and helping to prevent incidents.
Operationally, a DOS-equipped vehicle loop detector checks all the marks: you'll know when a vehicle is intentionally ready to enter or a customer is ready to speak with someone because the vehicle will be intentionally stopped inside the loop.
Long-term, DOS-equipped vehicle loop detectors can help to improve the energy efficiency of a facility in that false activations will occur much less frequently. With cross-traffic, virtually any vehicle large or small could set off a traditional sensor — using up energy and exposing interior spaces to outdoor weather, resulting in higher heating and cooling costs.
5 Vehicle Loop Detectors with DOS Technology
EMX Industries manufactured a full line of vehicle loop detectors that feature our DOS technology (many of which also come with our ULTRAMETER digital display for faster and easier installation). With each detector, DOS capability can be quickly and easily turned on with just the simple flick of a switch — no complex setup or configuration is needed should you need to change the settings.
NEW! CarSense303 (LRS) — Coming late August 2021, the CarSense303 (CS303) is a standalone magnetoresistive vehicle detector that features DOS technology, ULTRAMETER sensitivity display, and advanced magnetoresistive sensing technology. The latter feature can sense objects in X, Y, and Z axes to improve detection sensitivity above and below ground.
Learn more about the CS303 here.
ULTRA-DIN — Ideal for smaller spaces, the ULTRA-DIN detector fits into smaller housings and can be secured via a DIN rail mount. Its smaller size makes it easier to integrate into a variety of facilities and setups.
Learn more about the ULTRA-DIN here.
ULTRA-MVP — One of our flagship vehicle loop detectors, the ULTRA-MVP is a single-channel detector that can be quickly and easily installed in various environments thanks to its multi-voltage capability. It features a variety of configurations alongside DOS to customize its performance to your environment.
Learn more about the ULTRA-MVP here.
ULTRA-MVP II — Featuring DOS technology as well as many of the same great features as ULTRA-MVP, the ULTRA-MVP II is a two-channel variation that provides additional configuration for your environment while also enabling you to consolidate the overall number of detectors in use and reduce equipment costs.
Learn more about the ULTRA-MVP II here.
ULTRA-PLG — Designed for gate operations and other environments, the ULTRA-PLG is a 10-pin female plug-in module designed to work with many different types of gate operators. If your facility or space requires a plug-in-style solution, the ULTRA-PLG vehicle loop detector is a cost-effective and highly functional choice.
Learn more about the ULTRA-PLG here.
Unsure Which Option is Right for Your Access Points?
The EMX Industries access control team is here to help. We've been supporting industries nationwide with their access controls needs for more than 30 years. Connect with our experts today to learn more about these sensors, get installation advice, and more.