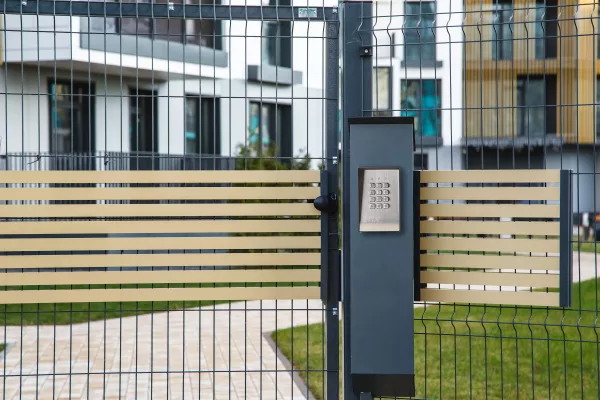 What is the KPX-100?
The KPX-100 is a programmable, dual-relay, and all-metal customized access control system keypad designed to be used in harsh, high-traffic environments. It can be installed in virtually any indoor or outdoor environment and provides a variety of features that can be adjusted based on the access control needs of your job site.
Benefits of the KPX-100 for Access Control Needs
Two Relay Outputs — Every access control situation is unique. For example, say 25 of 100 employees need unrestricted access to a facility 24/7/365. Those users can be put on one relay enabling that access. The remaining 75 can have more specific or restricted access that can be programmed on the second relay. This allows you to customize access for different groups as needed. And, up to 100 users can be programmed on a relay output, making this customized access control system keypad great for facilities that will have a fair amount of users.
Programming Flexibility — Codes can be programmed to enable different actions. For example, one or two codes can be programmed to keep a door open versus closing it after a certain time has passed. If some actions require an audible reminder, the KPX-100 features a beep speaker to remind users or others nearby that some action needs to be taken. Duration can also be programmed per relay, allowing for further customization.
Learn how to program the KPX-100 in single-user and multi-user modes.
Security Benefits — Thanks to its robust construction, the KPX-100 is vandal-resistant and even offers tamper-proof outputs. If someone attempts to take the unit apart, it will trigger an output into a security system if it is paired with one. This allows for a separate alarm system to be activated. Additionally, the KPX-100 features lockout and duress outputs and can recognize when someone is attempting to force open a door or gate.
Installation and Troubleshooting Guides — In addition to its beep speaker, the KPX-100 features three status LED lights that provide status information at a glance. When programming, the unit allows you to assign users to specific relays and confirm with specific beeps and lights. This enables fast programming of different user codes and provides confirmation once programming has been accepted.
Single-Use Codes — If you have a scenario in which a person may need access to a facility or space for a limited time, or even just once, the KPX-100 allows for one-time use codes that deactivate after use. These can be programmed so they're only accepted during certain times, such as weekends or evenings.
Multiple Use Cases — Thanks to its flexibility, this customized access control system keypad can be installed virtually anywhere as long as the number of users falls within the accepted threshold. Common use cases include apartments, industrial warehouses, commercial doors, and other small-scale access areas.
Why People Love the KPX-100
Quality — Once you've handled a low-cost or poorly designed keypad, the tactile and functional advantages of a superior keypad become apparent. The KPX-100 is extremely well-machined with its all-metal construction that's weather-resistant to IP66 standards. It has a far more professional appearance as well, giving the look of more expensive keypads. It features etching and tight-tolerance milling around the keys, providing a sturdy, reliable feel when using the unit.
IP66 Rating — Because the KPX-100 lives up to IP66 standards, it's extremely weather resistant and can withstand a fair amount of water pressure. Thus, it can be used in many outdoor environments while continuing to perform reliably day in and day out, whatever the weather may be.
Backlighting — The keys themselves feature backlighting, allowing for usability in low-light conditions. Other keypads often have a light mounted above the keys themselves, which doesn't always help with visibility in differing weather conditions. Being able to see the key numbering directly enables greater usability. And, this lighting can be configured to be on at all times, in standby mode, when users are in proximity to the unit, or off entirely.
Cost Competitive — The cost of the KPX-100 is extremely advantageous when compared to other units on the market, especially for a system that's produced with such precision and features significant customization options. Our more attractive price point has made this unit the go-to choice for installers and facility managers looking for exceptional performance and reliability, particularly when multiple units need to be acquired for multiple locations.
Put the KPX-100 to the Test at Your Next Job Site
EMX Access Controls is ready to help you find the right customized access control system keypad for your facilities. Whether it's the KPX-100 or any other keypad solution from our complete access controls portfolio, we'll work closely with you to understand how people will be using your facilities or spaces and match you up with the right equipment for your goals.
Connect with us today to learn more about the KPX-100 and our other solutions.