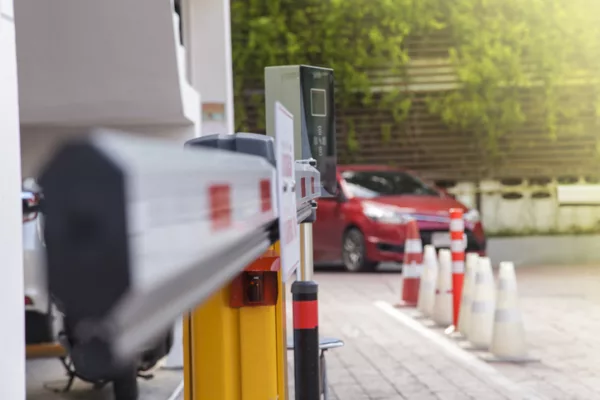 Vehicle detection is vital for many applications, from residential buildings to banks, drive-thrus, car washes, and more. Loop sensors offer a high-speed solution to vehicle detection and come in a range of options to best serve your needs. One high-quality choice is inductive loop sensors, which operate by sensing changes to the electromagnetic field over a wire coil loop installed within the pavement. Inductive loop sensors are reliable and highly accurate, enabling you to achieve superior vehicle detection that keeps operations running smoothly.
Introduced more than 50 years ago, inductive loop sensors utilize tried-and-tested technology and are a commonly used method for vehicle detection. Today, they remain the most utilized traffic sensors. They're also a more cost-effective option and offer superior versatility than some counterparts, enabling more customization to best serve your unique needs and environment. Some even offer DETECT-ON-STOP technology, allowing you to ignore cross traffic in tight spaces.
At EMX, we offer a wide array of innovative inductive loop sensors so our customers can find the ideal choice for their unique applications and needs. Read on to learn more about our inductive loop sensors and their benefits, then explore how to determine which is the right fit for you.
Evaluating Our Innovating Inductive Loop Sensors
ULTRA-MVP
This multi-voltage vehicle loop detector has an input range of 12VDC to 240VAC and serves as a universal unit. This allows you to reduce inventory costs from stocking and transporting multiple units to achieve the expansive range the ULTRA-MVP offers in one compact piece of equipment. It fits into small operator housings to save space and has a unique sensitivity display that enables streamlined installation and setup.
The ULTRA-MVP offers two relay outputs and empowers you to better ignore cross traffic in tight spaces with our unique DETECT-ON-STOP (DOS) technology that allows detection only when a vehicle comes to a complete stop on the loop. With 10 sensitivity settings and four operating frequencies, this inductive loop sensor can be tailored to your precise needs. It also comes in a two-channel unit in the form of the ULTRA-MVP-2.
Dive Deeper: Learn more about the ULTRA-MVP and whether it's right for your needs.
Other ULTRA Options
These inductive loop sensor solutions offer many of the same strong capabilities as the ULTRA-MVP, with innovative DOS technology and 10 settings with four operating frequencies so you can adjust the equipment as needed for your unique application. They differ in key ways that can be advantageous for your unique application and needs:
MVP D-TEK
This multi-voltage vehicle loop detector offers universal voltage and power from 12 to 220 VAC/DC. Designed with enhanced lightning/surge immunity and a durable aluminum RF shield housing, it's built to last and offers supreme reliability. It also offers 10 sensitivity settings to tailor it to your needs and can operate in both fail-safe and fail-secure modes.
Its universal voltage makes it simple to manage your stock — as long as you have this one detector in your stock room or on your truck, you'll be prepared for service calls and installation. This can help you reduce the cost of inventory and streamline your equipment needs.
Dive Deeper: Learn more about the MVP D-TEK and whether it's right for your needs.
LP D-TEK
The LP D-TEK is a low-power vehicle loop detector designed for applications where low power consumption is ideal. Its low 9 mA current draw makes this equipment well-suited for solar applications and gate or door operators that have multiple accessories sharing the same power supply. This loop detector enables you to be more strategic about your energy consumption and reduces your energy costs without compromising functionality.
It offers strong surge protection and sturdy aluminum RF shield housing. It also offers two relays and operates in both fail-safe and fail-secure modes, empowering your application with superior reliability. Though it doesn't have the same multi-voltage functionality as some counterparts, this cost-effective equipment enables you to accurately and quickly detect vehicles in an energy-efficient manner.
Dive Deeper: Learn more about the LP D-TEK and whether it's right for your needs.
Evaluating Inductive Loop Sensors
With so many options to choose from, deciding between inductive loop sensors for your vehicle detection needs may feel challenging. Some key factors to consider include:
Find Your Best Fit with EMX Today
At EMX, our mission is to help our customers explore their unique challenges and discover their ideal solutions. We'll work with you to evaluate inductive loop sensors and find the best choice for your access control needs. Explore our detector selection guide to get started, and contact our team to discuss your needs and receive tailored solutions today.