Simplifying Vehicle Detector Installation for All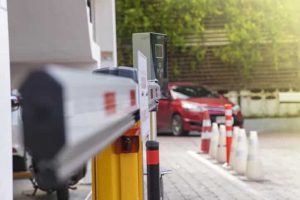 Vehicle detection systems are essential in countless markets — from the fast food and automotive industries to commercial and residential structures and communities. They ensure that access and traffic flow are precisely controlled, help to prevent unauthorized access or movement, improve safety, and support measurement needs (such as determining the number of vehicles entering or passing through a space over time). While there are numerous options available in the market depending on your needs, there is one challenge that many companies often don't consider when making their selection: the importance of power source in vehicle detector installation.
Often, vehicle detector manufacturers will provide one of two options: a low-voltage detector or a high-voltage detector. For facility managers or owners who aren't well-versed in the technical aspects of vehicle detector installation, deciding which solution to use for your unique needs — whether for gate control, overhead detection, a drive-thru or a car wash — can be a daunting task.
It's these situations that led EMX Industries, Inc. to develop our multi-voltage technology. Whereas many vehicle detectors will have lower input thresholds ranging from 12 to 24 volts, our multi-voltage detectors extend from 12 volts all the way up to 240 volts AC. But expanded power utilization is just the beginning. Let's explore a few more ways that multi-voltage technology makes vehicle detector installation a breeze.
How Multi-Voltage Simplifies Vehicle Detector Installation
It's a Plug-and-Play Solution
Because multi-voltage sensors simply work with the type of power provided at a given site, there's no need to stress about which detector to use. Any model with multi-voltage technology — subject to the specific conditions of your facility and detection needs — will be able to be used and take advantage of the power source available. Simply install the detector into the operator housing, make any necessary configurations, and you're all set.
It Provides Multiple Relays
Our multi-voltage detectors have a presence relay that indicates if a car is located over the loop. Additionally, relay 2 or output B options are also available, allowing our detectors to take advantage of other features such as pulse on entry or exit and DETECT-ON-STOP™ technology (more on this below). This allows you to configure your loop and process in a way that works best for your environment.
Find the right solution for you: Explore our vehicle detector selection guide.
It's Featured in Multiple Detectors
EMX Industries, Inc. offers several industry-leading solutions for your vehicle detector installation needs. These include our Ultra-MVP, Ultra-MVP-2, and MVP-DTEK product lines.
Ultra-MVP — Designed specifically for tight spaces like drive-thrus, service garages, gateways, and more, the Ultra-MVP multi-voltage detector ignores cross-traffic thanks to our in-house DETECT-ON-STOP technology. With 10 sensitivity settings and four operating frequencies as well as two outputs for vehicle detection or DETECT-ON-STOP, the Ultra-MVP is a compact solution that fits into smaller operator housings yet provides the detection flexibility needed to keep your space moving fluidly.
Ultra-MVP-2 — Featuring the same advanced features as the Ultra-MVP, the Ultra-MVP II variant features two channels — enabling directional logic and other control features. Additionally, it can be used to replace two detectors, reducing your overall vehicle detection equipment costs. Like the original, it also features DOS technology and the ULTRAMETER™ sensitivity display, allowing for optimum sensitivity and crosstalk interference settings during installation.
MVP-DTEK — One of our most proven and reliable vehicle detectors, the MVP DTEK comes in sturdy aluminum housing and offers the ability to select fail-safe or fail-secure in power loss scenarios. The universal voltage functionality means that no matter the power source at a site, this particular unit will get the job done well.
Reduce Complexity Without Becoming a Sensor Expert
EMX Industries, Inc. is a leading manufacturer of access controls and industrial automation solutions. For years, we've been helping companies worldwide streamline their detection and automation processes for greater efficiency, accuracy, and performance. If you're ready to make your environment more secure and efficient while also simplifying vehicle detector installation, our team is ready to assist.
Connect with us today to learn more about our vehicle detectors.