EMX is proud to announce the release of our complete Drive-Thru Alert Kit.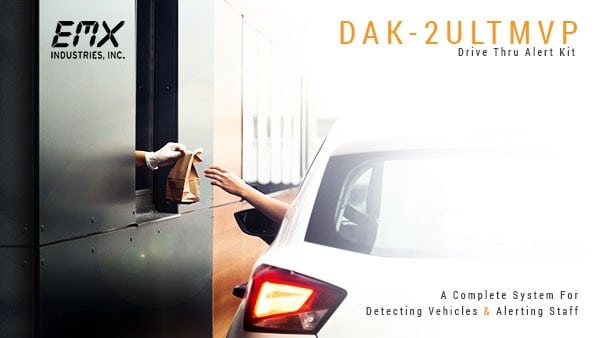 From restaurant drive-thru applications to banking and even carwashes, we set out to create an easy to install, self-contained solution for vehicle detection and staff or system notification. The DAK-2ULTMVP is the direct incarnation of that goal with its pre-wired enclosure, pre-made loops, included vehicle detectors and notification system. It's all there, ready for install.
We aren't kidding when we say the DAK (Drive-thru Alert Kit) is a complete system! Install the included loops, enclosure and strobe/chime, connect to power and calibrate.
It Really Is That Easy!
And it's all part of our Designed with the Installer in Mind initiative where we strive to develop useful, reliable and intuitive solutions for our loyal installers!
Contact Us Today for Pricing & Availability