Understanding GSM and Its Benefits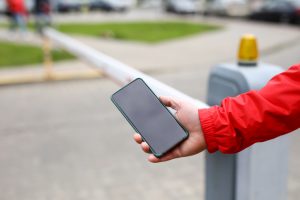 In many environments, the need for customization over access control is paramount. Every facility is different — your industry, how and when you operate, and who needs to access your areas all influence the flow of traffic in and out of your spaces. One of the most common forms of controlling this traffic flow is through a GSM access control system.
GSM, or the Global System for Mobile Communications, is a digital mobile network used worldwide and the most used of the three main digital wireless telephony technologies (with the other two being Time Division Multiple Access, or TDMA, and code-division multiple access, or CDMA). Because it's the most popular of these technologies, it's common to see GSM access control systems wherever mobile device usage is wanted for greater management flexibility.
With a GSM access control system, users can activate a door, gate, or another barrier simply by calling a specific phone line. The call is routed through the GSM network to the system, which then activates a corresponding control system to either open or close the access point.
And while there are a variety of GSM access control systems available on the market, EMX Industries, Inc. has developed a solution that takes this customization even further for property and facility managers in need of even more customization and control.
CellOpener-365: A Customizable GSM Access Control Solution
As the most advanced solution in our portfolio of keypads and card readers, the CellOpener-365 GSM access control unit allows deep customization and integration into existing systems. The system is easily managed through a SIM card provided by EMX Industries upon installation (a cellular plan is required) and is tied to a master phone number, such as a separate line controlled by the property or facility manager. 
Get technical: Download the CellOpener-365 spec sheet for complete details.
Looking for the manual? You can get here.
Advantages and Features of the CellOpener-365
Up to 2,000 Programmable Users — Designed for companies and residential spaces like closed-in parking lots and garages as well as areas where access simply needs to be restricted for a high volume of users, the CellOpener allows up to 2,000 total programmable users. Of those, 1,600 are 'standard users,' meaning they can simply call the number to have access as needed. Up to 400 users can have special settings, such as restricting their access to certain times of day or days of the week, a certain total number of access attempts, or simply being temporary overall.
Weekly and 365-Day Settings — Virtually any type of event and frequency can be programmed into the CellOpener-365. The settings can be easily configured to customize access — such as if certain employees are only permitted access during workdays or if a building or space is meant to be inaccessible on certain days (such as holidays or weekends). Settings can be granular as well, such as restricting or permitting access only during specific times of the day.
Simple Programming from Anywhere — Programming itself is done through SMS, making it easy for managers to quickly update settings as needed from wherever they are in the world. As new users are activated, or if notifications about access are wanted, the master phone associated with the SIM card will receive text alerts. The day and time settings are also controlled by the GSM network, so there's never a need for managers to worry about incorrect settings. The system will automatically adjust for Daylight Saving Time as well.
Ideal for Multiple Properties — If one facility or property manager is responsible for multiple locations, the CellOpener-365 can help to centralize configuration through that manager's master phone. Each location will need its own CellOpener-365 and SIM card, but settings can be controlled by the manager's phone — making updates and changes simple versus dealing with multiple phone lines or multiple people having to take action when needed.
Simple Installation — As with all EMX Industries access control devices, the CellOpener-365 was designed with the installer in mind. The system operates on 12-18 volts of AC or DC power, making installation flexible based on the power configuration of your space. The unit is also incredibly rugged, operating with ease in temperatures ranging from –40ºF (-40ºC) up to 149ªF (65ºC). Wherever you and your users are, the CellOpener-365 will perform reliably for your organization for years to come.
Ready for Greater Access Control Flexibility?
EMX Industries has been designing and manufacturing a full suite of access control solutions for multiple environments and needs for decades. The CellOpener-365 is an efficient and highly customizable solution for organizations looking to refine their access control settings based on users, environments, and dates and times. 
If you've been looking for a more customizable way to grant and restrict access to your environments, whether commercial or residential, our team is here to help you.
Connect with us today to learn more about the CellOpener-365.