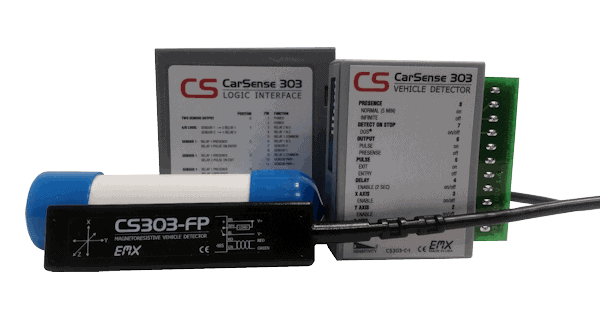 EMX introduces the CarSense 303, the latest in loop-less vehicle detection.
Save on labor and materials with this cost effective solution.
The CS303 is the perfect alternative to inductive loops!
Magnetoresistive Technology
Three-dimensional sensing components detect changes in the Earth's magnetic field.
User has independent control over the X,Y and Z axes to eliminate undesired detections including gates and cross traffic.
Flexible, Cost Effective Installation
Loop-less design for easy above (or below) ground installations on posts, parking barriers, call boxes and the side of buildings.
Compact, fully encapsulated housing that is compatible with a wide variety of operators.
EMX Exclusive Features
Detect-On-Stop™ recognizes stopped AND moving vehicles for more accurate detection.
ULTRAMETER™ display provides fast and reliable sensitivity adjustments.
Single saw cut saves on labor & materials.
With the CarSense303, vehicle detection has never been so easy! Learn more.