Streamline operations and cut costs (not loops!) in a wide variety of drive-thru applications with the USVD-4X ultrasonic vehicle detector.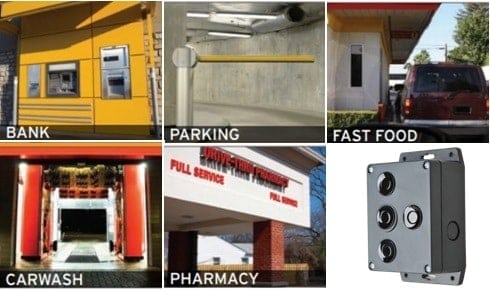 Advanced Detection Technology
Ultrasonic transducers in a triangular planar array configuration easily and accurately detect the presence of vehicles in banking, parking, carwash, pharmacy and fast food drive-thru applications.
Easy & Cost Effective Set-Up
Simply mount on a post or order box and aim — that's it! No need for additional adjustments or cutting expensive loops. The USVD-4X saves time & money as a loop-less vehicle detector.
Versatile Design
The USVD-4X is a flexible solution by offering an auxiliary setting for pulse on entry, exit or both. It is compatible with 12-24 VDC/VAC power supplies. The unit even activates a fail output when a solid object, like ice, blocks a transducer.