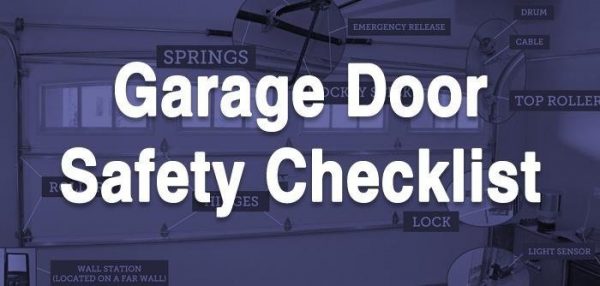 The safety of your garage door may have never crossed your mind, but it should! As the largest and heaviest moving object of your home and a device that's opened nearly 1500 times a year (that's roughly 4 times a day), your garage door requires regular check-ups to ensure the safest possible operation.
June is the best month to increase safety awareness on your garage door. This month has been declared as Garage Door Safety Month by the International Door Association and the Door & Access Systems Manufacturers Association.
IDA and DASMA share monthly maintenance tasks that you can perform yourself, including:
Monthly photoeye test (if your door is equipped with an automatic opener system). Note: garage door openers manufactured after January 1, 1993, are required by federal law to be equipped with a reversing mechanism and a photoeye or edge sensor as added measures of safety to prevent entrapment. If your system does not have these features, replacement of your automatic operating system is recommended.
With the door fully open, push your garage door opener's transmitter or wall button to close the door. Wave a long object, such as a broomstick, in front of one of the door's photoeyes so it "breaks the beam." The door should reverse.
If it does not reverse and reopen, pull the broomstick out of the path of the closing door. Close the door. With the door in the closed position, clean the photoeyes with a soft, dry cloth. Gently adjust the photoeyes by hand if they appear to be out of alignment. Open the door and repeat the photoeye test. If the door does not reverse and reopen, the door should be serviced by a trained service technician.