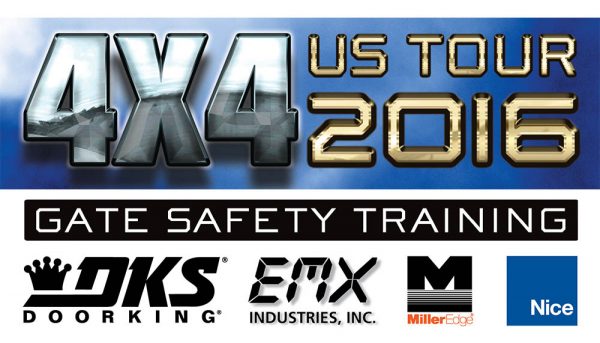 EMX, DoorKing, Nice and MillerEdge have teamed up to offer short half-day seminars that will provide information and training on the new UL 325 gate monitoring requirements.
4 Manufacturers + 4 Hours of Training (+ Lunch!)
Learn firsthand how DoorKing and Nice gate operators meet these requirements. EMX and MillerEdge will educate attendees on the different products that they offer to meet the new monitoring requirements.
Four 50 minute presentations (8:00 AM – 12:00 PM) to get you up to speed on how to meet the new UL 325 monitoring requirements.
DoorKing and Nice will show how their systems operate under the new requirements.
EMX and MillerEdge will show what products they offer to help you meet the monitoring requirements.
Over $200 in manufacturers discounts!
EMX will provide an IRB-MON photoeye (one per company) – a $240 retail value!
Earn IDEA continuing education credits.
A delicious lunch is provided at the end of the presentations!
Apr 26th – Las Vegas, NV
(IDA Expo show week)