Overhead Microwave Motion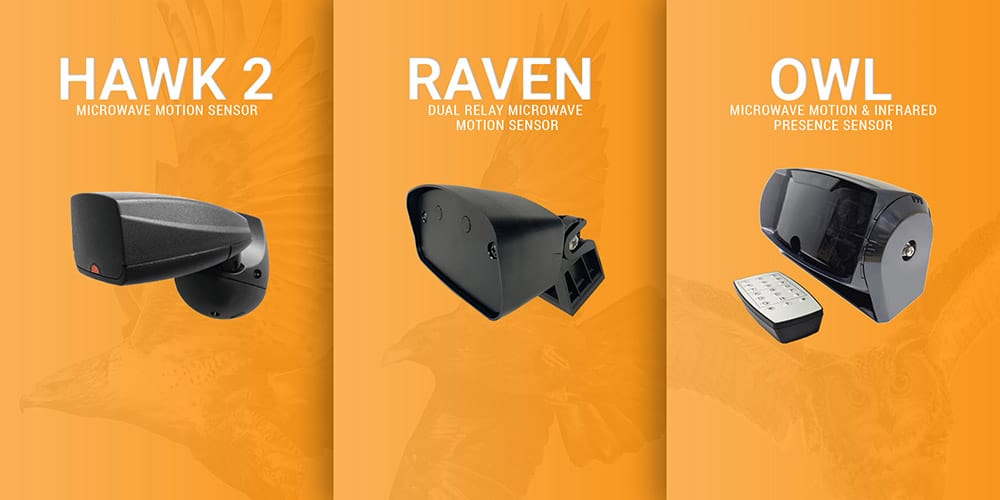 For indoor or outdoor applications where in-ground loops aren't an option or the need for better control over detection is necessary, look to one of our Microwave Motion Detectors. We offer a full range of overhead sensors for high-speed roll up doors, garage doors, gates and automatic barriers with a wide range of features.
Hawk 2
Microwave Motion Sensor
With functionality paired back from the Raven, the EMX Hawk 2 is our most affordable option. The Hawk 2 is an excellent option for standard installations on overhead doors, gates and other access systems where only the detection of vehicles is necessary. Flexible mounting height and the ability to narrow the detection zone makes the Hawk a great alternative to in-ground loops for most any application.
Raven
Microwave Motion Sensor with two relays
With the ability to differentiate between people and vehicles and dual relays, the EMX Raven is our most popular overhead vehicle detector. Install the Raven on a wide variety of applications and ensure you are only triggering your automatic access system when necessary, thanks to cross traffic detection. Pair the Raven with a keypad access, or lighting system on the second relay to allow personnel access independently of vehicle access. Conveniently control the whole system with the optional remote.
Owl
Microwave Motion & Infrared Presence Sensor
The EMX Owl is our most comprehensive microwave motion detector. Building on its sibling, the EMX Raven, the Owl adds even more operational flexibility by adding infrared presence detection. The ability to detect not only moving objects but static objects as well, increases the level of control you have over how your system operates. With the addition of the IR sensor, flexible mounting height from 11.5' to 21' (3.5-6.5 m) and optional remote the EMX Owl is our most capable overhead sensor.
---
Detectors
Showing all 3 results